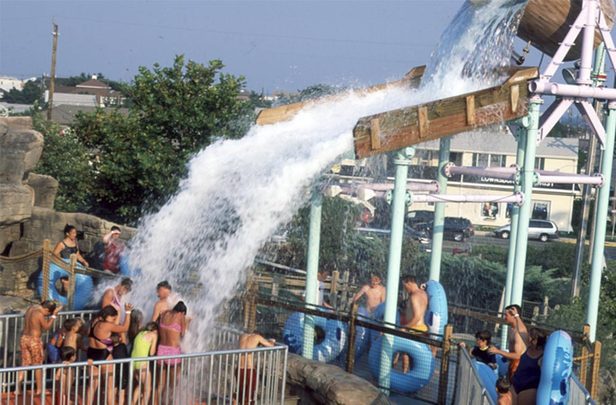 2019 Water Park Rates:

​

​
THUNDERING SURF WATERPARK HOURS
Final Day of 2019 Season 9/8

Thank you for another amazing year! 
​See you in the spring!

​ ​
​​
​
ALL DAYS & TIMES ARE WEATHER PERMITTING & ARE SUBJECT TO CHANGE.
PLEASE CALL IF YOU ARE UNSURE ABOUT THE WEATHER
CHILDREN 7 & UNDER MUST BE ACCOMPANIED BY AN ADULT
*** NO CAST OR SPLINTS PERMITTED***
3 HOUR SESSION
GENERAL ADMISSION: ​


$35.99 PER PERSON (42 IN & OVER) 
$30.99 PER PERSON (UNDER 42 IN)

$31.99 PER PERSON (42 IN & OVER)
$26.99 PER PERSON (UNDER 42 IN)


 NON-PARTICIPANT, 

EXPECTING MOMMIES, &

SENIORS 65 YEARS & OVER (2 hour admission):
$14.99 PER PERSON 


ADDITIONAL HOUR
$4.00

Season passes, Combo passes, 5 Day & 3 Day passes are available at the ticket counter or on the website under the weekly/season pass page.


​Flow is now closed for the season
​

​
​
Bodyboard ONLY during waterpark hours:
Price included with general admission.
FLOW HOUSE RATES

ONE HOUR SESSION : $40
HALF HOUR SESSION : $25
DAILY SPECIAL- WED RIDE ALL NIGHT

FLOW HOUSE PRIVATE PARTIES
ONE HOUR: $450
HALF HOUR: $275
ADDITIONAL HOUR: $400
Monday-Friday for private lesson or
flow party,
MUST be booked in advance by  8pm the day before.

                   CALL US FOR MORE INFORMATION.
        609.492.0869

       ALL DAYS & TIMES ARE WEATHER PERMITTING

                                       Monday- CLOSED

                                        Tuesday- CLOSED

                                        Wednesday- CLOSED

                                        Thursday- CLOSED

                                         Friday-      CLOSED

                                         Saturday 11am-10pm

                                         Sunday 11am-10pm

                               Monday 10/14 we will be open 11am-6pm

2019 Adventure Golf Rates

        ONE GOLF COURSE: 18 HOLES

      ADULT: $12.00 PER PERSON
           CHILDREN 10 & UNDER: $8.00


                  TWO GOLF COURSES: 36 HOLES
                  ADULT: $15.00

 

PER PERSON
                CHILDREN 10 & UNDER: $11.00 PER PERSON
                                 *****  SURF & TURF Combo  *****
        2 HOURS WATER PARK WITH ONE ROUND OF GOLF : $36.95
             


         *****ALL DAYS & TIMES ARE WEATHER
              PERMITTING & ARE SUBJECT TO CHANGE****


ACCEPTED FORMS OF PAYMENT:
VISA, MASTER, DISCOVER, & AMERICAN EXPRESS